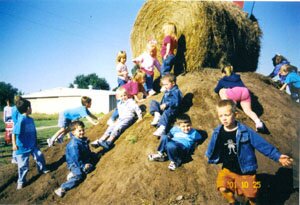 Harvest Festival in October requires a minimum of 15 people, a deposit and reservation. Individuals are invited to come to the pumpkin patch, farmers market (Friday and Saturday), and pick Asian persimmon. For tours durning the rest of the year please see the Tour Page.
Matt Family Orchard can supply and deliver bulk pumpkins to schools, companies, churches, private homes, etc. We can provide mini pumpkins, pie pumpkins, jacks, giant pumpkins, fancy pumpkins, hay, cornstalks and gourds.

In October we celebrate our Harvest Festival with the following features:
Pumpkin patch

Happy hayride around 145 wooded acres

Picnic tables seating 200 people

Covered pavilion with fans and lights

Campfire, we provide the wood

Stack of hay for "King of the Hill" game

A nature experience in the country

Educational and fun

Awesome tire swing

Swing set, tetherball and volleyball

Board games

Pumpkin to take home and much more...