What to wear and bring. Wear closed-toe shoes. We have all picking supplies, free for your use, there is no need bringing boxes or bags. We ask that fruit is purchased prior to eating.
Estimated Picking Schedule:
Blueberry: April - May
Blackberry: mid May - mid July
Loquat: mid April - mid May
Peach: mid May - June
Jujube (Asian Date): mid July through August
Asian Pear: July - August
Fig: July - September
Asian Persimmon: October - November
Citrus: October - November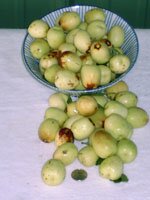 JUJUBE
Common Names: Chinese Date, Tsao, Ber, Finik, Feyhu'a, Zaozi, Hung Jo
Botanical Name, Ziziphus jujubba

We grow two varieties, Li (round) and Lang (elongated). They have a thin edible skin and a whitish flesh of sweet, agreeable flavor. There is a single hard stone. As the fruit ripens it goes from a light green to a yellow-green color then develops mahogany-colored spots. Most people prefer to eat the fruit between light green to yellow-green color. One popular use is a tea for sore throats. Some folks believe the tea and fruit provide energy.

There are about 40 species of this deciduous tree that will grow to 30 to 40 feet. The naturally drooping tree is graceful, ornamental and sometimes thorny with branches growing in a zigzag pattern. Some believe the tree originated in China where it has been cultivated for more than 4,000 years. The tree was introduced to the United States in 1837.

Food value: Tests indicate a very high Vitamin C content. Jujube ripens in July and picking lasts till late August.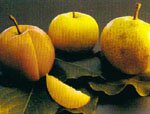 ASIAN PEAR
Common Names: Asian pear
We grow Housi, 20th Century and Shinko Asian pears; there are over 100 other varieties. Asian pears are known as Oriental, Chinese, Japanese, Nihon nashi, sand, apple, and salad pears. Asian pears are roundish and the skin is rough and predominantly yellowish-green. Like peaches and apples, Asian pears attain their best eating quality when ripened on the tree. The quality is excellent and they are very sweet and juicy. Ripe Asian pears remain firm and crisp, whereas European pears are picked green and held in cold storage to soften. Asian pears are best chilled and peeled.

Food value: Calories 146, Carbohydrates 20g, Protein 3g, Cholesterol 0mg, Sodium 36mg, Fiber 5g, and Fat 8g. Asian pears ripen in July and August.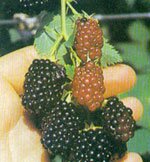 BLACKBERRY
Common Names: Rubus spp.
We grow six varieties: Brazos, Rosborough, Ouachita, Kiowa, Chickisaw and Apache. All blackberries are erect, Ouachita and Apache are thornless. The fruit has good quality. It is has a large fruit and is bright, glossy black and firm. In the 1950s, Texas led the nation in blackberry production with almost 6,000 planted acres in the Tyler-Lindale area. Note: Due to strong demand we added 6,000 blackberries in February 2006.
Food value: Rich in Vitamin C, contains potassium. Blackberries ripen in mid May through mid July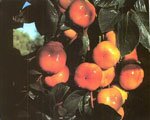 ASIAN PERSIMMON
Common Name: D. Kaki, Shizi, Hurm'a, Lum Chi, Caquis, Japanese persimmon, Oriental persimmon, Chinese plum

We grow five varieties: Fuyu, Jiro and Matsumato Waste, all non-astringent persimmons that are eaten out-of-hand, and Hachiya and Saijo, are astringent (called tannin) variety eaten soft. Fuyu fruit is four-sided, fairly tough skinned and is pale yellow-orange to deep red. Hachiya is larger, with an oblong-conical shape and orange skin. Saijo is smaller, egg shaped, and considered the best astringent persimmon.
The persimmon is referred to as the "Apple of the Orient". There are 400 species, most located in the tropical and subtropical regions. Persimmons are the fifth most important fruit in Japan. The oldest known persimmon tree is 600 years old, grown in Japan.

Most Americans know the astringent persimmon variety, Diospyros Virginiana, which is considered a minor fruit and must be eaten soft. D.Virginiana is used as the rootstock to graft the Asian varieties. Persimmons are also used in brewing sake, persimmon skins are used for dyeing and the wood is prized in Japan for fancy inlays.

Food value per 100g: Calories 77, Moisture 78.6g, Protein .7g, Fat .4g, Carbohydrates 19.6g, Calcium 6mg, Phosphorus 26mg, Potassium 174mg, Magnesium 8mg.

Depending on weather conditions Asian persimmon ripen from September to November.