MATT FAMILY ORCHARD UNDER NEW OWNERSHIP EFFECTIVE AUGUST 16, 2018
_____________________________________________________


After the passing of Rick Matt, the founder of Matt Family Orchard, who managed it for 20 years, we decided to sell the property to a company that will keep it running so our customers may continue to enjoy the fruit with which God has blessed us.
With a heart full of gratitude to all our customers and friends, we bade you goodbye and God bless.
THE MATT FAMILY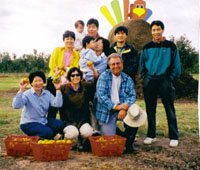 HOME PAGE
Matt Family Orchard has 40 acres planted with pick-your-own fruit and berries available 'FRESH TO YOU AS GOD BLESSES US'. All fruit is sold by the pound. Orchard produce includes: blueberries, blackberries, peaches, figs, jujube (Asian dates), Asian persimmons (Shizi), Asian pears, loquat, kumquat, satsuma, lemon, etc.
Besides the orchard, we provide year-round group orchard tours. Visitors may see wild life around the orchard, which includes deer, foxes, bobcats, coyotes, hogs, rabbits, roadrunners and more. The orchard is a perfect place to observe God's creations.
When fruit is in season our hours vary.
Reservations and a deposit are always required for group tours.
The Matt Family Orchard has:
Pick your own fresh berries and fruit ripened on the tree.
We have: 800+ blueberries, 6,000 thornless and thorn blackberries, 300 fig trees, 100 pear trees, 125 jujube trees, 1,100 Asian persimmon trees, 60 citrus trees and some loquat and peach trees.
All fruit is pick-your-own and sold by the pound.
We sell local honey.
Tours are provided year round with reservations. .
2,000 square foot Pavilion with seating
Playground with volleyball, tetherball and playground equipment.
Two clean flushable toilets.
Quiet, peaceful and relaxing.
Enjoy the fresh country air.
See Contact Page for directions and a map.

For the best of Texas, look for the GO TEXAN logo. GO TEXAN stamps products grown and made in the Lone Star State, helping them stand out in a crowd. From an amazing array of great Texas-made food, fiber, horticulture and forestry products, the Texas Department of Agriculture's GO TEXAN campaign is telling the world to choose Texas first. Learn more about GO TEXAN at www.gotexan.org or 1.877.99GO-TEX.